---
Discount railcard extended for people aged up to 30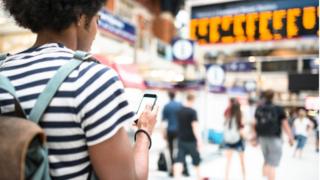 If you're 26 and annoyed about paying the full fare for your train travel, the Budget may offer a reprieve.
The government has said people up to 30 years-old will now be able to buy a £30 railcard for discounted train travel.
The move – set to be announced in Wednesday's Budget – would be an extension of the current young person's railcard for those aged 16 to 25.
The so called millennials' card will be available from spring next year, and offer up to a third off non-peak fares.
This means the new railcard is unlikely to be much use for regular commuters, as railcard discounts are restricted at peak times, usually before 10am.
---
'I'm very excited'
Regular train user Jimmy Connaughton, 29, from St Albans said he was "very excited" about the new card which he reckons will save him up to £400 a year.
"It's been a long time since I lost the use of my 16-25 year rail card. I'm probably a bit more excited than I should be, but it is just before my 30th birthday," he said.
The keen Chelsea fan mainly uses trains for travelling to and from football games.
"I go to a lot of matches and I have a multitude of railcards to try to replicate the Student Railcard. I have a Network Railcard [for trains across the south east], a Two Together, for when I travel with my Dad, and a Friends and Family [discounts for up to four adults and children] for other occasions."
He has no truck with those who think the railcard is a meagre gesture to the hard-pressed Millennial:
"True, you can't use it on peak trains but that ship sailed a while ago – anyone used to using student rail cards are used to not travelling on peak trains."
The card is part of a series of Budget measures aimed to attract younger voters after a resurgence in 18 to 29-year-olds voting in June's general election favoured the Labour party.
The national roll-out of the card comes after a successful test of the discounted card in East Anglia.
Railcards were introduced as a way for train companies to help fill seats during off-peak times. The card for 16 to 25-year-olds has existed in one form or another since 1974.
---
Analysis: Richard Westcott, BBC transport correspondent
On average, I am told, people who have a rail card at the moment (16 to 25-year-olds) save £150 a year.
And anything that cuts costs for younger people has got to be a good thing.
But there is one critical issue with this new scheme, you won't be able to use the card at peak times. So commuting to your job will be just as expensive… and it's about to get even more pricey.
Season tickets go up by 3.6% in January. The highest rise since 2013.
---
You might also like:
Apology after train departs seconds early
The degrees that make you rich… and the ones that don't
Meet the world's youngest self-made billionaire
'Tinkering'
The Treasury said the move would help keep the cost of living down for more young people.
However, Andy McDonald, Labour's shadow transport secretary, said: "Any move that reduces the cost of travel is welcome but the Tories are tinkering around the edges of a broken system.
"Our railway should be run by and for passengers, not private shareholders and foreign governments."
Air passenger protection
Also on Wednesday, the chancellor is expected to announce a review, led by an independent chair, into airline insolvency arrangements.
If follows the recent collapse of Monarch, which left 110,000 passengers without a return flight home. It cost UK taxpayers about £60m to bring people back to Britain.
Recommended Posts
June 1, 2020
June 1, 2020
June 1, 2020
Call Now Button