---
Manchester Airport: Flight cancellations and delays amid fuel problem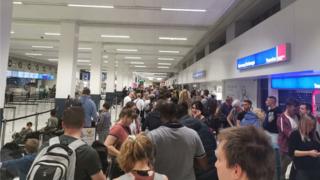 There are delays and cancellations at Manchester Airport after a "power issue" affected fuel supply.
Flights to Tenerife, Belfast and Milan are among 69 cancelled, while others have been delayed by hours.
A Manchester Airport spokesman said: "Due to a power issue this afternoon there is currently an issue with the fuel supply at the airport.
"Engineers are on site to fix the issue and we are working with airlines to try and minimise the impact."
It is believed all fuelling at the site has stopped.
The airport, which is still open, urged people to check with their airline for information and updates.
Passengers said they had been told the problems would last until at least 22:00 BST.
Some said they had been stuck on grounded planes for two to three hours.
Of the 69 flight cancellations, 37 were arrivals and 32 were departures.
Graeme Forster, 37, from Queensferry in North Wales, and his wife were booked on the 15:45 Jet2 flight to Lanzarote.
After waiting on the stationary plane for three hours, he and his fellow passengers were taken back into the terminal.
Mr Forster said: "I am severely annoyed as Jet2 are not being helpful. They have also said compensation is not an option as it's the airport's fault not Jet2."
Ian Thornley, 29, had been booked on the 19:35 Aer Lingus flight from Dublin to Manchester after spending the weekend in Ireland at a wedding.
He said they were only told the flight had been cancelled at 21:30 and then had to queue for another hour to arrange a flight for Monday afternoon.
The food retail project manager said: "When we got to the airport it was showing that the plane was going and then it kept saying it was delayed.
"We were at the gate for two hours and it came up as cancelled. We won't be getting back to Manchester until Monday afternoon."
Mr Thornley, who lives in Manchester, said he had been forced to phone his work to cancel meetings
"I am going to have to do a five-day working week in four days now," he added.
"A friend who was on a different airline's flight out of Dublin got to the runway and was kept out there for an hour before they brought the plane back."
The airport spokesman said it "remains operational as not all flights are impacted, and passengers are advised to speak to their airline for specific flight information".
Call Now Button