---
US shares follow in wake of global rout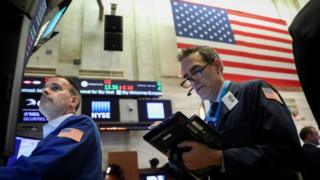 US stock markets have opened sharply lower, following earlier big declines in Europe and Asia.
All three main Wall Street share indexes dropped as much as 2%, amid growing anxiety about global growth and US-China trade tensions.
In London, shares were down 2.5%, with the FTSE 100 index at its lowest level since December 2016.
Other major European markets were showing even bigger falls as a sell-off that started in Asia gathered pace.
Oil prices also sank, with Brent crude 1.9% lower at $60.39 a barrel.
Analysts said the arrest of Chinese telecoms giant Huawei's chief financial officer in Canada had revived worries over the US's trade war with China.
The renewed falls on Wall Street came as trading resumed after Wednesday's stock market closure to mark the funeral of former President George HW Bush.
The latest downturn quashed hopes that the markets might return to health after losses on Tuesday, when the Dow Jones index finished down 3%.
By mid-afternoon, London's 100-share index was trading at 6,750.23 points, while the Cac 40 in Paris and Frankfurt's Dax were both 2.6% lower.
Worst-hit sectors included miners, oil companies, carmakers and tech stocks.
Among the biggest fallers in London were mining firms Antofagasta, down 6.7%, and Glencore, which fell 4%.
On the FTSE 250, which fell 2.6%, Thomas Cook gave up Wednesday's gains to trade 13.7% lower, while Premier Oil slipped 9.6%.
Earlier, Asian markets had also fallen, with Tokyo's Nikkei index shedding 1.9% and the Hang Seng in Hong Kong down 2.5%.
"Investors are back in risk-off mode, with markets falling in the UK, mainland Europe and across Asia," said Russ Mould, investment director at AJ Bell.
"Markets are worried by numerous things: global economic growth, rising interest rates and the US-China trade war."
Norman Villamin, chief investment officer at Switzerland's Union Bancaire Privée, said the US-China clash represented much more than just a tussle over trade.
"It's not about trade – it's about who is going to be the economic and political leader of the world in 10 to 20 years from now. It's about tech, and who is going to dominate that landscape," he said.
Markets 'spooked'
Laith Khalaf, senior analyst at Hargreaves Lansdown, said: "The arrest of Huawei's CFO has reignited fears that trade reconciliation between the US and China may not be forthcoming any time soon.
"The market is spooked by the damage a continuing trade war could do to global economic prospects, and that's hitting share prices in the UK and overseas.
He added that "the valuation on the UK stock market looks close to its historical average, which means it's neither Black Friday cheap nor dotcom expensive".
"However, it's unlikely to pick up significantly until there's greater clarity on the UK's withdrawal from the EU. Meanwhile, US trade policy also continues to undermine confidence in global markets."
Oil prices fell as traders waited for news from the meeting of Opec oil-producing nations in Vienna, with some member states keen to agree on a production cut to drive up prices.
"We're looking for a sufficient cut to balance the market, equally distributed between countries," said Saudi Arabia's oil minister, Khalid al-Falih, before the meeting.
Recommended Posts
July 22, 2019
July 22, 2019
Call Now Button